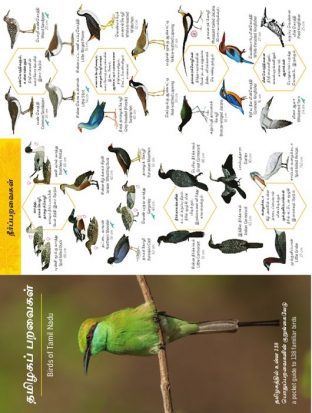 Best Birdwatching – Early Bird Pocket guides
Best Birdwatching – Early Bird Pocket guides
₹40.00
₹40.00
Early Bird Pocket Guides (பறவை கையேடு) உங்கள் பறவை வழிகாட்டி ஆகும்..
Publisher:
NCF
Author:
ப. ஜெகநாதன்
Description
Reviews (0)
Hindu Paper Review
Description
About Early Bird Pocket guides (பறவை கையேடு)
As the beginner birdwatcher learns to identify more birds, there is often a need for a simple pocket guide that lists the common species of the region in a portable format that can be easily carried in the field. This is especially needed for children who may be confused by the comprehensive and often bulky field guides.
We have produced a range of pocket guides for different regions to fill this need. The pocket guides fold into a size of 3.5″ x 8.5″ and are laminated for protection. Illustrations are shown for around 135-140 species in each, with winter migrants and selected other features (eg. Western Ghats or endemic species) marked separately.
பறவைகள் பார்க்க தொடங்கியுள்ள புதியவர்கள் நிச்சயம் இந்த பறவைகளை பற்றிய கையேடு பயன்படும். 100 பறவைகள் மேல் படங்களுடன் பெயர்களும் கொடுத்து உள்ளனர்..
பறவை கையேடு நிச்சயம் உங்கள் வீட்டு சிறுவர்களுக்கு பயன்படும்..
A Early Bird Pocket guides pocket guide brought out on the Common Birds of Kerala has listed 135 birds categorised into birds of prey, wetland, ground feeding, aerial feeding and arboreal birds.
The birds have been depicted with their pictures, features and name in both English and Malayalam. The guide has been brought out by the WWF-India (WWF) with the Nature Conservation Foundation (NCF) and Early Bird.
The guide, brought out as a six-fold handy material, will be released at the inaugural session of the Thiruvananthapuram Bird Atlas to be held at Kowdiar Palace on Saturday. The original concept and design, prepared in English, titled 'Common Birds of India' belongs to the NCF.
Renjan Mathew Varghese, State Director, WWF-India, said the WWF was invited to partner in the publication to modify the guide to make it specific to Kerala by including vernacular names.
Expert birders A. K. Sivakumar, who is also the Senior Education Officer, WWF, and WWF volunteer G. Govind took up the work. The cover illustration is by Sangeetha Kadur.
Bakyaraj from Trichy
bought this item recently.
This item is Best Seller in following categories: